PLAY THE WINNING CHOICE
Victory Musical Instruments: Elevating Musical
Excellence Worldwide
At Victory Musical Instruments, we proudly serve as the premier destination for musicians and dealers worldwide. With an unwavering commitment to excellence, we have earned a reputation as the preferred source for musicians seeking instruments of exceptional quality and craftsmanship.
Experience the Difference:

- Unparalleled Sound and Performance: Our instruments deliver an unmatched sound that resonates with passion and artistry, elevating your musical expression to new heights.
- Enhanced Ergonomics and Precision: Meticulously designed with musician's needs in mind, our instruments offer improved ergonomics and precise mechanisms for effortless playability and ultimate comfort.
- A Broad Spectrum of Musical Mastery: From beginners to professionals, our extensive catalog of band instruments ensures that every musician finds their perfect instrument to unleash their full potential.
Unleash Your Musical Journey:
Victory Musical Instruments is dedicated to providing musicians with outstanding instruments that inspire and empower their musical journey. We believe that every musician deserves instruments that evoke pride and excitement with every note played.
Join the Global Movement:
As an award-winning company, we have garnered the trust and admiration of top musicians worldwide. Our instruments are highly sought-after by band programs and music educators, who recognize the superior quality and performance that Victory Musical Instruments offers.
Shaping the Future of Music:
Driven by over 30+ years of professional music experience and 20 years of engineering expertise, our founder has pioneered advancements in technology, materials, and ergonomics. We are at the forefront of shaping the future of musical instruments, constantly pushing boundaries and redefining musical possibilities.
Embrace Musical Excellence:
Step into a world of optimism, innovation, and unstoppable momentum with Victory Musical Instruments. Join us on this transformative journey of musical excellence and together, let's create a future where your musical dreams become a reality.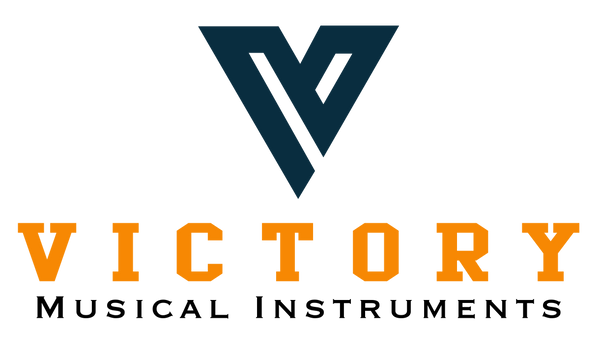 Testimonials
"The design, craftsmanship and warmth is over the top! These instruments are going to be extremely popular, especially due to it's incredible value and affordability! Bravo!!!" - Ed Maina (Jaco Pastorius, Chaka Khan, Maynard Ferguson, Frank Sinatra)

Ed Maina
Amazing trumpet. I have a Revelation model in silver and the mic loves it. Live and in the studio. This trumpet has a beautiful, projecting sound, which is at home in soft and loud environments. You will be heard and will be able to mix with others in the section or band.

Luis Aquino
Instruments that make your life easier to play! They are Amazing

Johan Escalante
The Growling Sax UPRISE Series Tenor Saxophone is one of the best horns currently on the market. Excellent clarity, intonation, comfortable key-work, and it's not too heavy! I am happy to play a horn that I know has been put together with extreme precision and care.

Candido Jessee Abeyta IV
Great experience. Very knowledgeable and helpful. The instruments are beautifully built and of great quality. Amazing value! Thank you Melvin!

Andres Tovar
Subscribe to our Victory News
Get the latest promotions, new products and sales directly to your inbox!